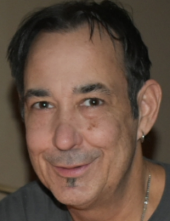 Obituary for George H. Ingram III
George H. Ingram III, a talented chef whose culinary skills were put to use at restaurants in California, Arizona, and New Jersey, died August 3 after a courageous, three-year battle with cancer. He was 49 and lived in Cherry Hill, NJ.

Before illness curtailed his work, George had cooked at such Cherry Hill restaurants as Seasons 52, Vitarelli's, and the former La Campagne.

Born in Philadelphia, he moved to Chino, California, in 1976. After graduation from high school, he received an Associate in Culinary Skills degree from Chaffey Community College in Alta Loma, CA.

From 1992-1995, he was line cook at the Top of the Market seafood restaurant in San Diego before returning to the East Coast to work at the former Striped Bass in Philadelphia. In 1996 he launched his own company, Renaissance Catering, in Chino. George was sous chef and chef de cuisine at the London Arms Pub and Playhouse in Lake Havasu City AZ before being named executive chef at The Refuge Golf Club in Lake Havasu City in 2004.

After coming back East, he also worked at Pine Valley Country Club in Pine Valley, NJ. An entrepreneur, George often foraged for wild mushrooms to sell to area restaurants and packaged Portuguese sea salt for sale at such places as Andy's Farm Market in Upper Township, NJ.

Bruce Santino, executive chef at The Farmhouse restaurant in Cherry Hill, worked with Mr. Ingram at La Campagne. "To be known as a chef in your career is a challenge and an honor," Santino said. "George always put on his chef jacket with honor, respect, and love for the patrons he was feeding, as well as for the food he was preparing. Not only was he a great chef and mentor but also a great friend, in and out of the kitchen."

On numerous occasions, George volunteered his services as a personal chef at charity events for such organizations as United Way, the Red Cross, the Hospice of Arizona, and the FOP of Cherry Hill. He was also an avid outdoorsman who loved to fish and crab at the Jersey shore.

George is survived by his wife, Angela (nee Carmody); a son, George H. Ingram IV, of Lake Havasu City; mother Charlotte Hansen (nee Behlau), of Cherry Hill; father George H. Ingram, Jr., and Patricia Staub, of Ocean City, NJ; sister Pamela Ingram Walsh, of Cherry Hill; brother John Hansen, of Cherry Hill; niece Rachael Walsh, of Cherry Hill; and a large, loving family of aunts, uncles, and cousins. A memorial service will be held Thursday, Aug. 16 at 11 am at the Lord of Life Lutheran Church, 1 Winchester Drive, Tabernacle, NJ 08098.
Contributions in his memory may be made to the American Cancer Society.